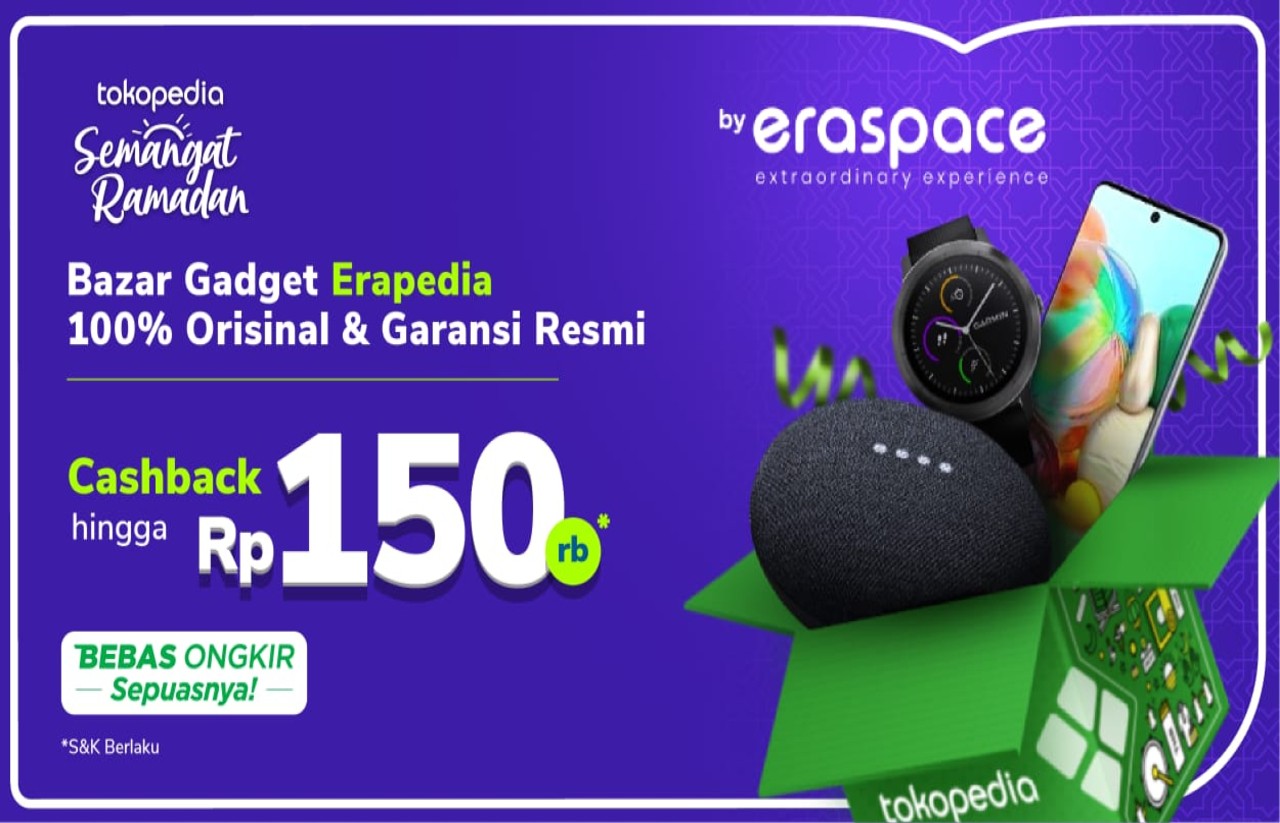 Gadgetren – PT Erajaya Swasembada, Tbk through eraspace.com launched a strategic collaboration program with Tokopedia titled Erapedia, which is a promotional program specifically for the gadget and electronics category.
Amir Hamzah as Director eraspace.com said that Erajaya Group and Tokopedia have the same competitive advantage in their respective fields.
"We collaborate and synergize to present the Erapedia program with the aim to provide convenience, promotion and the best experience for consumers. In the current COVID-19 pandemic situation, shopping for various needs online is the wisest choice, primarily to support the stay at home movement, "he said through a written statement posted to the Gadgetren team.
While David Kartono as AVP of Business Tokopedia said that Tokopedia continues to collaborate with strategic partners, in this case Erajaya Group to facilitate the community to meet the needs of gadgets and electronics without having to go outside the house.
"Considering online shopping can be an alternative to reducing the risk of spreading viruses in crowded places while encouraging business people to continue operating online," he said.
The special electronic promotion program took place on April 13, 20 and 27, 2020, while the special program on the cellphone category and accessories on April 14, 21 and 28, 2020. The peak was Erapedia BIG DAY which lasted only one day on April 23 2020 .
The Erapedia program also offers a variety of attractive offers for consumers, such as additional Cashback OVO points for gadget products at Samsung, Huawei, UAG, Garmin and Erafone stores in the form of discounts of 5% to Rp 100,000 for a minimum purchase of Rp 500,000 and Cashback 20% to Rp. 20,000 minimum purchase of IDR 50,000.
Electronic products at Hyper, Go Pro and Google stores will get a 5% discount up to Rp 150,000 for a minimum purchase of Rp 1,000,000 and 10% Cashback up to Rp 40,000 with a minimum purchase of Rp 20,000. Additional OVO point cashback is only valid 1 time for 1 Tokopedia account.
In addition, the trade in program is available through Tokepedia's Add-on Exchange feature, as well as the Free Gadget Protection program and also Free Shipping throughout Indonesia. Erapedia also provides special price promos on the following gadget products:
Erapedia Gadgets Special Prices:
HONOR JSN-L22 8X 4GB RAM 128GB ROM: IDR 2,299,000
JBL T600 BTNC: Rp. 1,449,000
IRON MAN MK50 Robot by UB TECH: Rp. 1,999,000
DJI Mavic Pro Combo Platinum: IDR 15,999,000
Samsung Galaxy S10 Plus 1TB: IDR 13,499,000
Samsung Galaxy A30 64GB: Rp. 1,999,000
Huawei LIO-L29 Mate 30 Pro 8GB 256GB RAM RAM: IDR 11,499,000
GoPro Hero 8 Black: IDR 5,999,000
Google Nest Mini Bundling Promo with Philips WiFi RGB & Tunable Bulb: IDR 999.00