Gadgetren – Welcoming the month of Ramadan 1441 H or 2020 AD, Indosat Ooredoo held a campaign with the headline "Nothing Is More Important Than Hospitality".
Fahroni Arifin as SVP Head of Brand Management Strategy of Indosat Ooredoo said that the message from the Indosat Ooredoo campaign was to emphasize that the user will not be interrupted with family or other people with daily products from this operator service.
Coinciding with this campaign, Indosat Ooredoo also announced that it has presented the Daily Freedom Quota package for the IM3 Ooredoo service. This package alone allows users to get attractive internet quota every day at an affordable price.
For the Freedom Daily Quota package itself is divided into three variants consisting of 7 GB, 14 GB, and 28 GB with different active periods. You can see the following table so you can find out the details of the package.
Price of Freedom IM3 Package Daily
Daily Freedom Quota
Price and Active Period
7 GB

Rp. 19,000
active period 7 days
1 GB per day

14 GB

IDR 39,900
active period of 14 days
1 GB per day

28 GB

IDR 74,900
active period of 28 days
1 GB per day
It can be seen that each variant of this package has a quota of 1 GB per day with a difference of the length of the active period and the price offered. Of course, you can buy one of these Freedom Daily Quota variants as needed during Ramadan.
Not only that, Indosat Ooredoo also presented an Obrol package for Rp 10,000 with an active period of Rp 10,000. If you buy this package, you will get benefits from fellow Indosat Ooredoo phones and special telephone rates to other operators.
For those of you who are curious to activate Freedom Daily Quota for IM3 Ooredoo, then you can view the following tutorial.
Using the MyIM3 Application
Open the MyIM3 application on the smartphone
Next, look for the Daily Freedom Quota package in this application
After meeting, then you can choose one variant of the package
Press the button Buy if you are sure
On the package details page, press the button Buy now
Choose payment method (GoPay, OVO, credit card, debit card, ATM Bersama, and Virtual Bank Account)
Select the button Pay so that IM3 Ooredoo will process it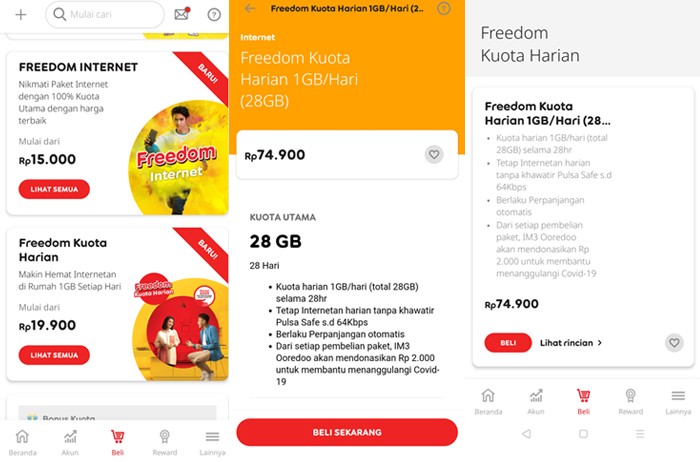 If the package was successfully purchased, you will be sent a success notification SMS. In addition, Freedom Daily Quota that has been purchased will also be seen in the MyIM3 application. Selalin method, you can also activate it through the UMB code.
Using UMB code * 123 #
Open the Phone or Phone application on your device
Enter the code * 123 # and press the button Call
After the menu dialog box appears, select the Freedom Daily Quota menu and press the button Send
Next, you will be shown again a dialog box containing the order of variants of the Daily Freedom Quota package
If you are sure, then enter the menu OK and press the button Send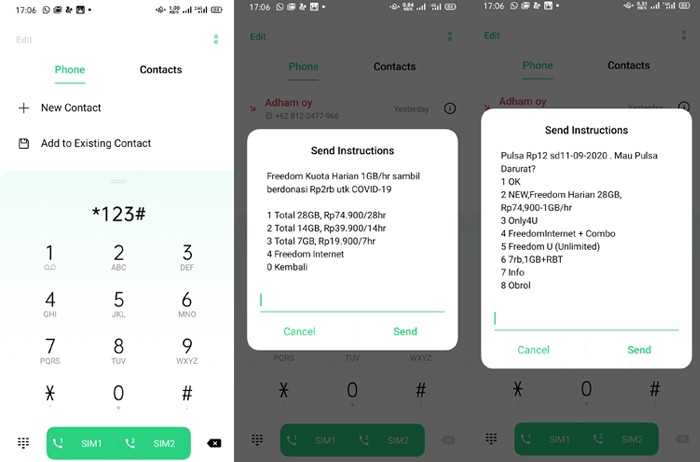 When the Daily Freedom Quota is successfully purchased, you will be sent an SMS notification in the form of a successful package purchase. With the purchase of the Freedom Daily Quota or Obrol package, you also indirectly give a donation of Rp 2 thousand to face COVID-19 in Indonesia.