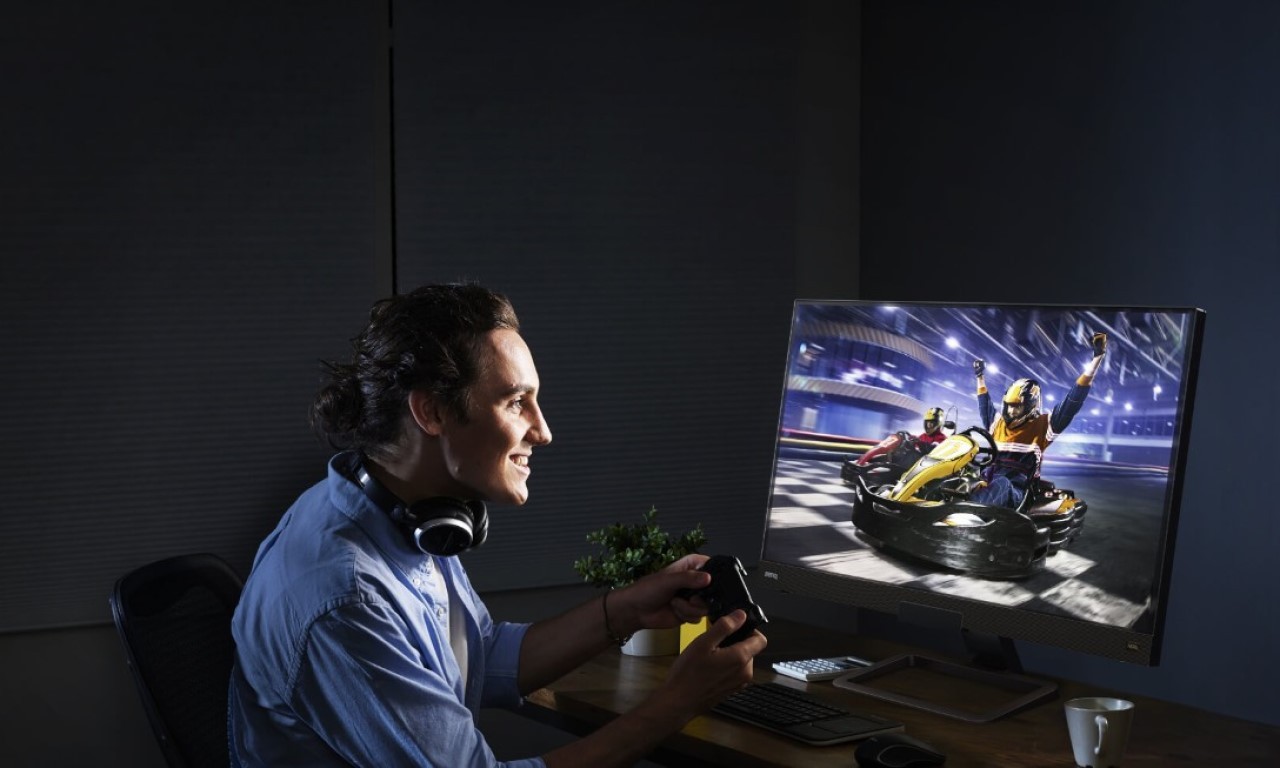 Gadgetren – BenQ is bringing gaming monitors back to Indonesia. The new monitor with the BenQ EX2780Q model brings 144Hz refresh rate support, HDRi technology, Hi-Fi 2.1 audio channels, and Eye-Care.
BenQ EX2780Q is technically a screen developed based on IPS panels. This new screen measures 27 inches with QHD resolution so it is wide enough to display scene details when users play video games.
Like some of its newest monitors, BenQ also equips this monitor with an image optimization technology called HDRi. By utilizing sensors embedded in the monitor, this technology will adjust the image display to the surrounding conditions.
The technology that is exclusively present for BenQ high-class monitors will automatically adjust the brightness control of the light, color balance (saturation), and exclusive HDR images to maintain image contrast and clarity.
By using this technology, the BenQ EX2780Q monitor specifically will make hidden details in every dark corner revealed and present a balanced light area so that the displayed image is not overexposed and faded.
The BenQ EX2780Q is also equipped with three HDRi display modes which include HDRi Games, HDRi Cinema, and HDR Display so users can adjust the monitor to their needs or tastes.
Based on the press release we received, BenQ also revealed that the monitor is equipped with an embedded Hi-Fi 2.1 speaker channel which is claimed to maximize integrated expansive sound.
The speaker channel, also called BenQ True Sound, was developed by BenQ through the TreVolo audio team with five sound mode support such as Game, Cinema, Pop (Live), Dialogue (Vocal), and Rock (Party).
No less interesting, the BenQ EX2780Q monitor is also armed with support for very high refresh rates so that it can display the movement of characters or scenes in a game to be smoother.
This technology does not come alone because BenQ combines it with FreeSync technology that can align frames, Black eQualizer which is able to display clear contrast in dark scenes, and Color Vibrance that makes enemies more visible in any background.
With a set of modern technology and a fairly large size, this gaming monitor is priced at Rp 7,990,000. You can ask for it through BenQ's official store at Tokopedia as well as Lazada.