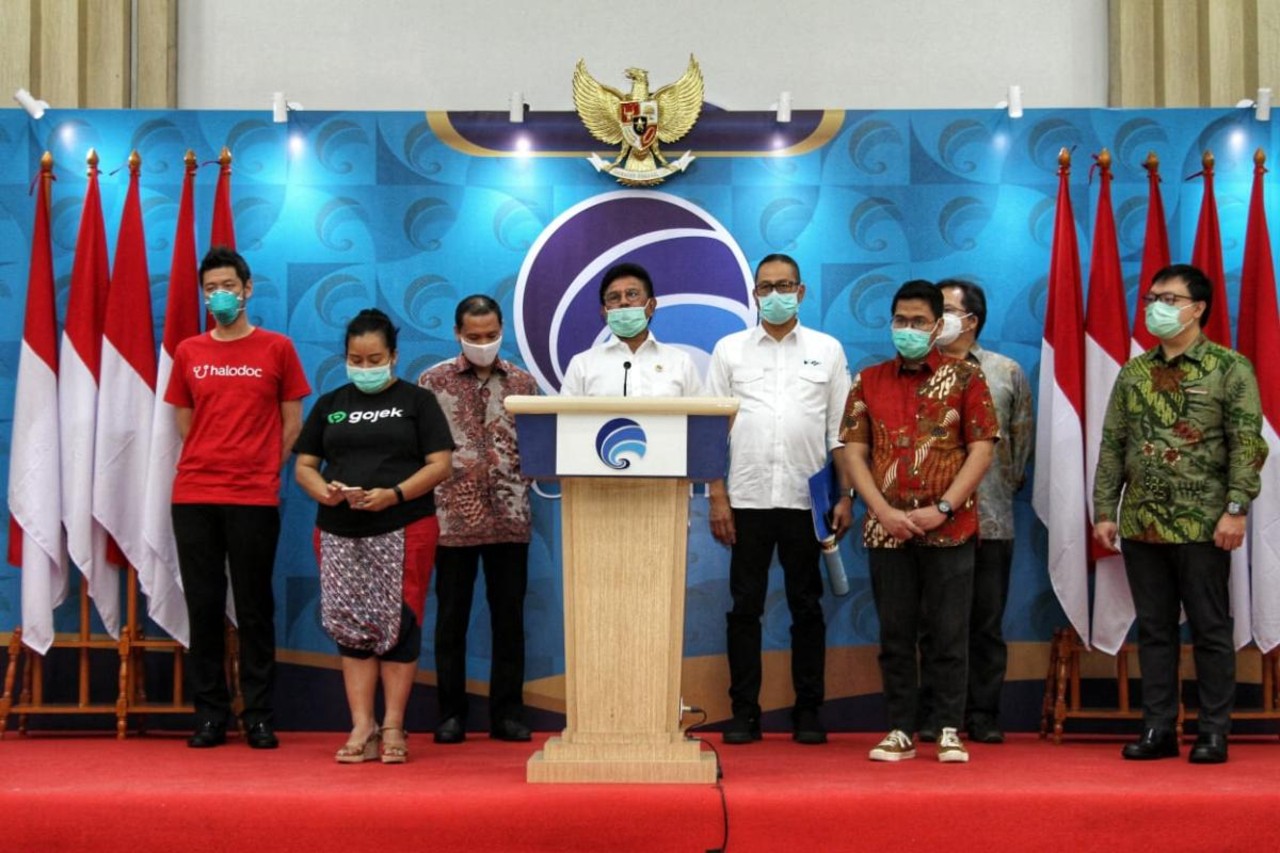 Gadgetren – Ministry of Communication and Information appreciate digital platform in Indonesia in providing support for the implementation of the Distance Guard Movement or Physical Social Distancing in accordance with the direction of President Joko Widodo to prevent further spread of the COVID-19 pandemic.
The digital platform in question include Gojek, Grab, Tokopedia, Bukalapak, Halodoc, and Ruangguru. The five platforms have provided facilities and support in the Work from Home, Learn from Home and Pray or Worship at Home movement in accordance with their respective service areas.
Johnny G Plate as Minister of Communication and Information appealed so that people use services maximally provided by the five digital platforms.
"We encourage shopping from home, consulting from home, and learning from home. The government also appealed for the prices of goods and services on its platform to not be uncontrolled, "he said in a press release via the official website. Ministry of Communication and Information.
In addition, the MOCIT also appreciated the efforts of the digital platform in the form of Corporate Social Responsibility (CSR) to help fundraising, procuring Personal Protection Equipment (PPE), and various other donations to support the government's efforts against COVID-19.
The appreciation was said by the Minister of Communication and Information in an online press conference with the Director General of Informatics Applications, Semuel Abrijani Pangerapan; Chief of Public Policy and Government Relations Gojek, Sintho Nugroho; Tokopedia co-founder and Vice-Chairman, Leontinus A. Edison; CEO of Bukalapak, Rachmat Kaimuddin; Halodoc CEO, Jonathan Sudharta; Ruangguru's Co-Founder Chief of Product and Partnership, Faith Usman; and Head of Public Affairs at Grab Indonesia, Tri Sukma Anreianno.
"We want to say in this press conference about how the digital industry is helping the government overcome the problems of the COVID-19 pandemic. The Ministry of Communications and Information Technology invites all of us to unite in dealing with the COVID-19 pandemic situation in Indonesia because everyone's role is important to prevent a wider spread of the virus, "he said.
As we already know, Gojek and Halodoc have provided facility support for home health monitoring and checking. Bukalapak, Tokopedia, Gojek, and Grab open opportunities to work from home while Ruangguru facilitates the learning process from home.
Telecommunications Operators and Internet Access Providers (ISPs) have also contributed greatly in providing free access to support the handling of COVID-19 interactively.
For telecommunications operators and internet access service providers, the Minister of Communication and Information hopes that they can expand their service coverage. Data package facilities and free services to students at many tertiary institutions are also expected to serve other students in secondary schools.