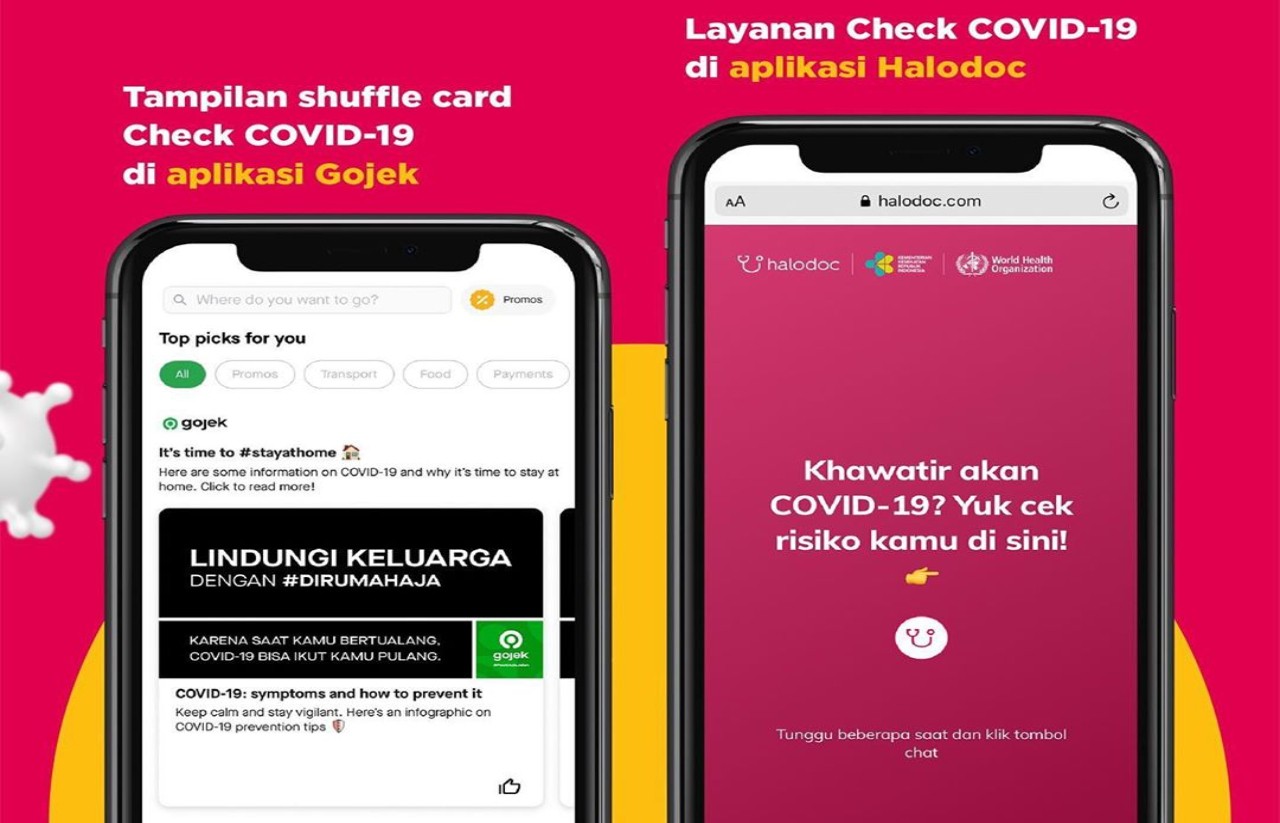 Gadgetren – In addition to providing a virtual consultation service with doctors regarding corona virus symptoms, Halodoc's online Telemedicine service also offers drug delivery for patients with mild corona virus symptoms to the home directly through Gojek.
This inter-drug home service is to provide patients who are exposed to the corona virus in low conditions so that they can stay at home focused on healing and getting medication.
The online telemedicine innovation is designed to strengthen the Government's efforts to deal with the COVID-19 outbreak, also known as the corona virus. Based on data from the World Health Organization, about 80% of corona virus patients in the world only experience two mild symptoms and can recover with treatment at home without the need to be hospitalized.
Andre Soelistyo as Co-CEO of Gojek Group said that Gojek helped mobilize all elements of their ecosystem to strengthen the handling of the corona virus in Indonesia. It cannot be separated from this, of course their driver and merchant partners will help the Indonesian people through this difficult time.
"They are the ones who help the community to get the goods, food, and medicines that are needed. We hope that Gojek can become the backbone of Indonesia for us to pass through the corona virus, "he said through a press release received by the Gadgetren team (03/22/2020).
Thus, this is in line with the #DiRumahAja hashtag movement carried by the government and Gojek has echoed the chain of transmission of the corona virus. As additional information, Gojek has previously announced three main focuses by the company to prevent the spread of the corona virus in the #DiRumahAja campaign.
The three main focuses include Social Distancing, practicing a Healthy Lifestyle, and maintaining Productivity. Even to support driver partners in maintaining productivity, Gojek launched an income assistance scheme for driver partners who were positive for the corona virus.
In addition, Gojek will also facilitate the mobilization of medical personnel to and from hospitals and health testing centers through GoRide and GoCar discount vouchers. This was given by Gojek as a token of appreciation to medical workers who worked tirelessly to help the community in the midst of the corona virus outbreak in Indonesia.
Meanwhile, Halodoc also continues to campaign for restrictions on social distance and healthy lifestyles through various communication channels such as at https://www.halodoc.com/cek-risiko-tertular-virus-corona-secara-online-here-here.