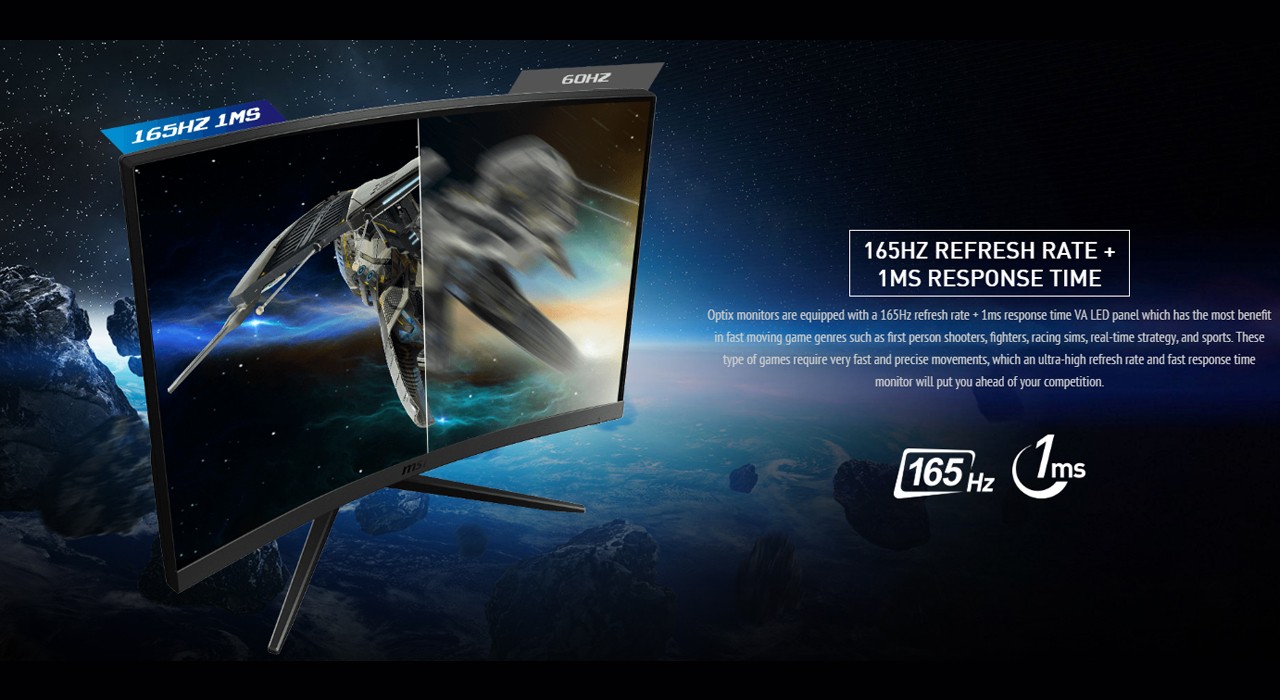 Gadgetren – Besides relying on a PC that has powerful performance, usually a gamer must also be supported by a monitor with good quality.
Meanwhile, gaming monitors can also be used on console devices such as PlayStation or Xbox as good visual output devices.
But of course not all monitors have the same features and image quality so you must pay attention to important guidelines to get an ideal gaming monitor.
So as not to choose the wrong gaming monitor, there are some important terms that need to be known by a gamer such as resolution, refresh rate, response time, adaptive sync, panel type, and connector support.
1. Resolution
Resolution is the number of pixels that can be displayed on each screen dimension. Resolution is usually one of the main things mentioned in the monitor's technical specifications. At present, the majority of monitors on the market have Full HD (1080p), Quad HD (2K or 1440p), and Ultra HD (4K or 2160p) resolution support.
Although it still dominates the market, 1080p resolution screens will slowly begin to be abandoned by gamers in the future because there are monitors that support larger resolutions. Most gamers agree that a display with a Quad HD or 1440p resolution is the new standard in gaming monitors.
Resolution 1440p offers more attractive visuals without having to require a high-end hardware system so that the frame rate remains stable when running the latest games. What's more, monitors that support 1440p resolution are still more affordable than 4K monitors.
2. Refresh Rate
Refresh Rate is the ability of the monitor to update or refresh the image display every second on the screen. Measured in Hertz (Hz), the higher the value, the more the number of image signals that are refreshed every second.
Therefore, monitors with high refresh rates are useful when running highly dynamic or fast moving game genres such as the FPS (First-person shooter) genre, fighting (fighting), racing (racing games), RTS (real-time strategy), and sports (sports).
This type of game requires very fast movements and accurate movements. That means you need a monitor with a very high refresh rate to be more competitive when playing.
Before making a choice, you should consider compatibility of the monitor with the GPU being used. If the GPU is able to produce a high frame rate, the monitor must be able to compensate with a high refresh rate. If the monitor only supports a low refresh rate, then the maximum capability of the GPU will not catch.
3. Response Time
Response time is the time it takes for the pixels on the monitor to switch from one color to another (black to white or from gray to another). Usually the response time is measured in milliseconds to show how fast the image is moving.
On modern monitor screens, the 1 ms response time is usually on a TN panel monitor and 4 ms on the IPS panel. For the genre of games that change images very quickly (FPS, racing games, etc.), you must prioritize the monitor screen with a response time of 1 ms to avoid the effect of screen tearing (screen display as if torn or split in two) and fluctuating frame rates.
4. Panel Type
There are three types of panels commonly used on gaming monitor screens today, namely the TN (Twisted Nematic) panel, IPS (In-Plane Switching), and VA (Vertical Alignment). The TN panel has the highest refresh rate support and low response time.
While VA is positioned as a panel with features between IPS and TN panels. The color reproduction and viewing angle of the VA panel are generally on par with the IPS panel, although the VA panel has an advantage in the image contrast feature.
Furthermore, the IPS panel offers better color reproduction and viewing angles, but its response time is still below the TN panel. When determining the monitor with the type of panel that is suitable for playing games, you only need to decide what priorities you want when playing the game.
Is the display image that runs very smoothly on the screen, sharp and detailed visual display, or a compromise of both. You could say this is more related to subjective choices or preferences of each user.
5. Color Gamut
Color gamut is a range of colors visible to the eye, where a wider or wider ensures a much better color reproduction thereby enhancing the visual image and making detailed graphic elements look much better.
Gaming monitors with a wider color gamut will provide a significant immersive or depth effect when playing games. Render a good scene with the right color reproduction is often considered as important as other parts of the gaming experience for gamers.
Fortunately, the color gamut standard can be used as a useful benchmark in measuring the color range capabilities supported by gaming monitors. Popular color gamut standards consist of sRGB, AdobeRGB, and NTSC.
Usually gaming monitors that support 100 percent color gamut on one or more of these scales definitely deliver color reproduction that spoil the user's eyes.
6 Connector Support
Gaming monitors today, usually come with several connectors such as HDMI, DisplayPort, DVI, VGA, and USB Type C. On monitors with high refresh rates, you should use DisplayPort to produce optimal visuals.
While HDMI is capable of producing good audio and video in most resolutions. HDMI cable itself has become a standard for HDTV and PC monitors. Furthermore, DVI can be used as an alternative to HDMI if your GPU or monitor doesn't have enough ports for all display devices.
If you need a gaming monitor with good capabilities and features according to the criteria above to play games, then various vendors have sold it in the Indonesian market. You can choose MSI WQHD, ASUS ROG, Acer Predator, AOC AGON, and many more.